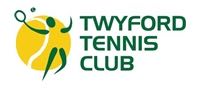 Twyford Tennis Club, Berkshire, is located in the heart of the village in King George V playing field, behind the village hall (Loddon Hall) and is easily accessible from Reading, Wargrave, Sonning and Hurst. The club caters for all ages and all standards.
There are three floodlit tennis courts enabling play to continue throughout the year – and as a member you can use them for free!
A new club house arrived in 2005, the courts were re-surfaced in 2014, repainted in 2016 and there are flood lights on all three courts so that members can enjoy great facilities throughout the year, at this friendly, local club.
There are lots of organised sessions throughout the week as well as plenty of free court time just to come along and play and they welcome new members at any time during the season.
As the standard is mixed, there's no need to feel daunted if you're new to the game or you haven't played for a while. They offer adult coaching Tuesday nights so that you can gain some confidence and quickly start to join in on club nights.
For information about the club and membership, visit the website or use the email link or phone number shown below to contact Simon.
For coaching enquiries, contact Gary on 07855 196973 or email gjoates@sky.com.