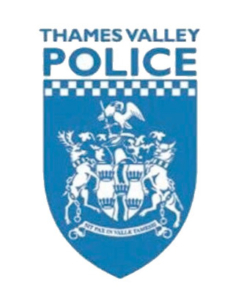 Thames Valley Police serves a diverse population of over two million, plus approximately six million visitors to the area annually.
To report something to the police, dial 101 unless there is a crime in progress or someone is at risk of serious injury – your call will still be answered quickly by an operator.
Alternatively you can report a crime online via the main Thames Valley Police website: www.thamesvalley.police.uk. Only dial 999 in an emergency.
To give information anonymously that may help solve a crime, call Crimestoppers on 0800 555111.
There are twelve Local Policing Areas, of which Bracknell and Wokingham is one.
Twyford has a small police station in Station Road that is manned by volunteers. It is open on Wednesdays 2pm – 6pm and Saturdays 9am – 1pm. The main station serving the area is Loddon Valley Police Station: this is the address given here.
The email address shown is for the Twyford Neighbourhood Policing Team.
The website address shown is also for the Twyford neighbourhood, where you can find information about the local policing team and local crime updates as well as sign up for the messaging service Thames Valley Alert.