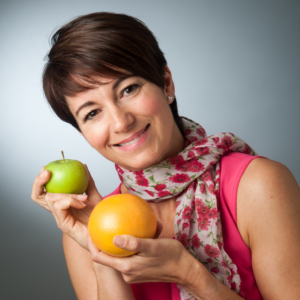 Sarah Hart is a fully qualified nutritional therapist offering private consultations, seminars and bespoke workshops. She has a BSc (Hons) degree from the University of Westminster, London.
Sarah covers Berkshire and surrounding areas, visiting clients at their workplace or by mutual convenience in the locality. She offers 1:2:1 private consultations, bespoke workshops and seminars. She also works in London and other areas running workshops on nutrition for corporate clients and taking part in wellness events, including within local schools .
Nutritional therapy applies nutrition and health science to individuals enabling them to maximise their health potential. Each person has unique dietary and nutritional requirements, which are assessed on an individual basis. Many factors are considered including possible food allergies, lifestyle, biochemical and nutritional imbalances and environmental influences.
Having previously worked in the corporate financial sector, Sarah is fully aware of the effects of day to day stresses associated with deadlines, meetings and commuting. She is also the mother of a young daughter, so knows how important and beneficial a nutritious diet is to children. Parents, too, can receive help for boosting and maintaining energy levels, combating fatigue and stress, addressing post-natal issues or mood swings, and achieving weight loss. Practical advice is offered on how to improve your overall diet and lifestyle to maintain a healthy balance. You will be able to work towards adopting long-term healthy eating habits, address specific conditions and ailments or work towards a physical goal or challenge.
Sarah also has a keen interest in sports and fitness. She completed a course at the Centre for Nutrition Education & Lifestyle Management (CNELM) in Wokingham, enabling her to give comprehensive nutritional advice to athletes. This is a particular passion of hers, and she has been given the opportunity to advise a member of Team GB.
Sarah has helped many clients with a wide range of problems. Her aim is always to work with the individual in a supportive role to identify and address any conditions and help them achieve their goals. She brings a refreshing and natural approach to health, creating a bespoke and realistic dietary protocol for each person.