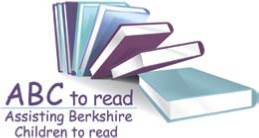 ABC to Read (Assisting Berkshire Children) trains and supports volunteers in primary schools across Berkshire, helping hundreds of children each year to enjoy reading and gain an essential skill for life. The charity needs to maintain around 120 volunteers to work with 500 children each year to improve their reading skills, improving their confidence and self esteem.
The children are chosen by the schools as those in most need of reading support. The volunteers are selected by the charity and are DBS checked, trained and supported.
ABC to Read are keen to increase awareness of their work in order to reach more Berkshire children. If schools have children that have fallen behind in their reading and require 1-1 assistance by a trained reading mentor, or if you are looking for a wonderful volunteering opportunity during school term time, then please visit the website for more information or enquire via the email link below.