View Calendar
Wreathmaking at The Old Post Office pop-up shop

Tue 10 December 2019

2.30pm - 4.30pm

The Old Post Office, 55 High Street, Wargrave RG10 8BU

£45 including a glass of Prosecco and nibbles

Libby - 07739 035937

Don't miss out on the latest pop-up shop in the Area. The Old Post Office in the High Street in Wargrave reopened in November as a pop-up shop offering a fantastic range of stylish Christmas gifts, many produced by local craftspeople.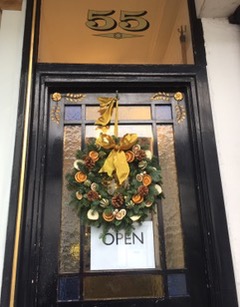 Wow your guests with ideas for your Christmas table, stocking fillers and decorations, or take part in one of these Wreath Decorating Events in December. All are freshly hand made from pine and moss ready to be decorated with a fantastic range of goodies, together with silk wired ribbon from VV Rouleaux in Marylebone.
Escape from the frenzy of Christmas shopping in a relaxed environment. It's a great way to get into the Christmas spirit. If you are a party of 6 or more, you could also arrange a separate time dedicated to your group. It could be the ideal work team building event!
For information or bookings, contact Libby (see details above).