View Calendar
Repeat every week on Wednesday until 27-12-2023
Sue Ryder Grief Kind Space

Every Wednesday starting 1 November 2023

10am - 12 noon

The Cafe at Hare Hatch Sheeplands, London Road, Hare Hatch RG10 9HW

Free


www.sueryder.org
www.harehatchsheeplands.co.uk

From 1 November 2023, the Sue Ryder charity is holding a weekly Grief Kind Space at Hare Hatch Sheeplands enabling local residents to access free, informal peer-to-peer bereavement support.
The in-person drop-in sessions are run by trained volunteers who provide a safe, informal and supportive place for people to come together and share their experiences of grief. The aim is to help attendees feel heard and less alone.
Amanda Dean from Sue Ryder Duchess of Kent Hospice said: 'We have seen such an incredible impact from our Grief Kind Space in Thatcham, it is amazing to be part of somewhere where we are seeing people make connections and open up about their experiences of grief.   
'Quite often people feel like they are a burden speaking about their grief to friends or family, but our Grief Kind Spaces help remove that feeling, so people can talk, listen to others who might be experiencing the same as them, and gain support.
'I am delighted that we are able to offer this service to even more people as we open our Grief Kind Space in Reading, providing much needed support to anyone who is grieving.'
There is no need to register, just pop along.
Sue Ryder Grief Kind Spaces do not provide formal counselling: anyone seeking this type of support can use Sue Ryder's existing Online Bereavement Counselling Service and other support services.
To find out more about becoming a Grief Kind Space volunteer visit sueryder.org/GKVolunteer or email GriefKindSpaces@sueryder.org.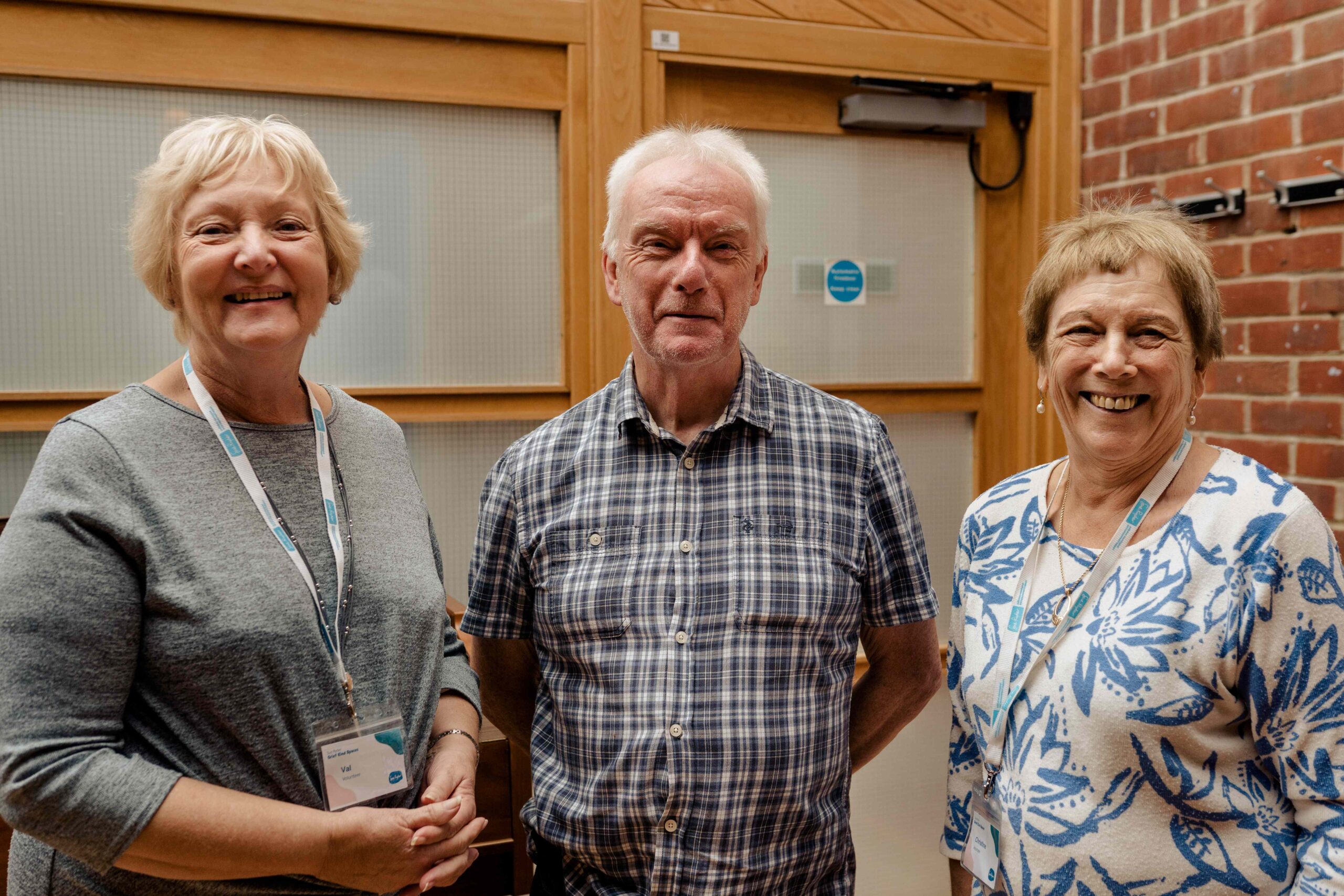 L-R Grief Kind Spaces volunteers Val Buckland, Ed Grehan and Christine Roberts
---
About Sue Ryder
Sue Ryder supports people through the most difficult times of their lives. Whether that's a terminal illness or the loss of a loved one – we're there when it matters.
For over 65 years our doctors, nurses and carers have given people the compassion and expert care they need to help them live the best life they possibly can.
In order to continue to provide and develop our services and expert care we rely predominantly on income from our charity shops, fundraising activities, and donations from members of the public.
For more information please visit www.sueryder.org