View Calendar
Repeat every day until 12-10-2019
Spiders Web

Thu 10 - Sat 12 October 2019

7.45pm

Loddon Hall, Loddon Hall Road, Twyford RG10 9JA

£9 - £10

Box Office 0118 328 2825

trtgboxoffice@gmail.com

www.twyrusdrama.org.uk
This autumn Twyford & Ruscombe Theatre Group are proud to present Spiders' Web by Agatha Christie.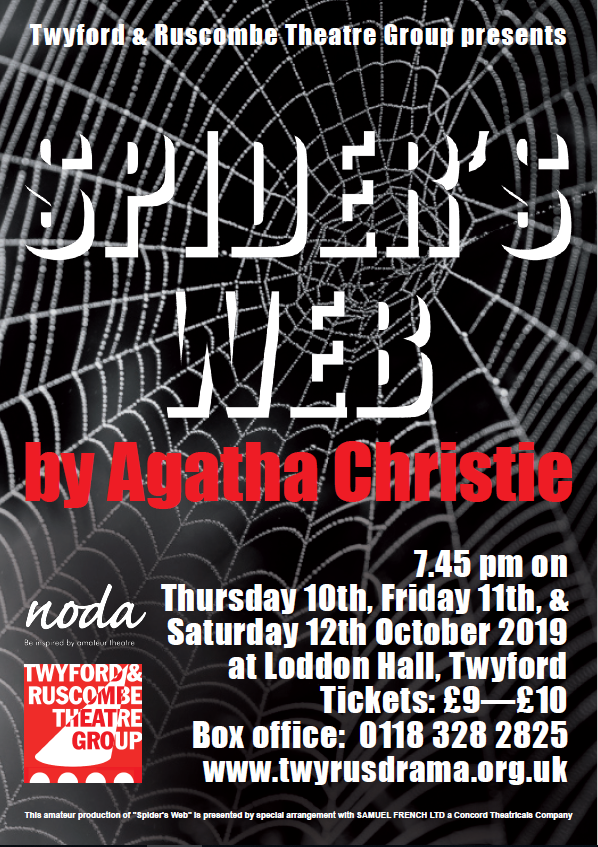 Screen actress Margaret Lockwood is probably best remembered today for playing the female lead in the Hitchcock thriller The Lady Vanishes (1938). There followed several more screen roles in which she became typecast as a femme fatale (The Wicked Lady, The Man in Grey). Wanting to cast off this unwelcome image and pursue a stage career, Margaret approached leading playwright Agatha Christie to write a play for her with a more light-hearted lead role.
The result was Spider's Web, an amusing whodunnit in the typical Christie manner. It opened in the West End in 1954 and completed well over 700 performances.
The Twyford production is directed by Mike Higgins who, as a stage-struck teenager, saw Margaret Lockwood in the original production in 1956.
A tale of blackmail, murder, intrigue and deception, the carefully crafted plot abounds with clues and red herrings. To protect her family, the central character, Clarissa, weaves a web of deceit which slowly unravels in the face of a determined police investigation. Striking a balance between mystery and humour, this is a play which never takes itself too seriously.
Can you identify the killer? Come and pit your wits against the genius of Agatha Christie.