View Calendar
Remembrance Sunday events in the local area

Sun 13 November 2022

Several events during the day

Various locations

Church office for St Mary's Twyford, St Nicholas Hurst, St James Ruscombe and Twyford URC: 0118 934 4792

office@thru-christ.org.uk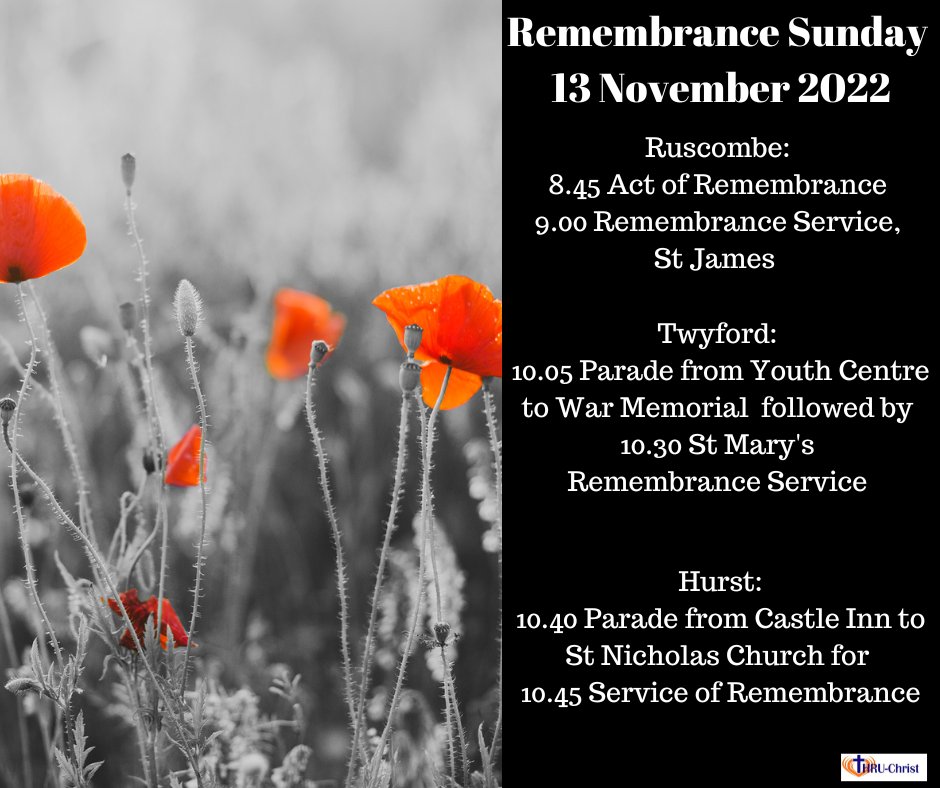 More information about local Remembrance Sunday events:
Source: Maidenhead Advertiser
TWYFORD: More than 100 youngsters in uniform will be led by the Maidenhead Concert Band, leaving Twyford Youth Centre near Loddon Hall shortly after 10am and marching via Sycamore Drive and Hermitage Drive to the traffic lights, then across to St Mary's Church.
WALTHAM ST LAWRENCE: The Waltham St Lawrence Parish Church (CE) in Halls Lane will be doing a Service of Remembrance after Holy Communion on Sunday. The service will begin at 9.45am at the church followed by a service at the War Memorial at 10.45am with the Waltham St Lawrence Silver Band.
WARGRAVE: There is no parade through the village. St Mary's Church will hold a church service at 10.40am on Sunday, then villagers will head to the War Memorial in Mill Green. The traditional two-minute silence at 11am will be observed and there wil be the laying of wreaths and the names of 69 fallen soliders will be read and poppy crosses will be planted. The St Sebastian Wokingham band will play at the service.