LOOT by Twyford & Ruscombe Theatre Group

Thu 10 to Sat 12 May 2018

8pm

Loddon Hall, Loddon Hall Road, Twyford RG10 9JA

Tickets £7 to £10

trtgboxoffice@gmail.com

0118 328 2825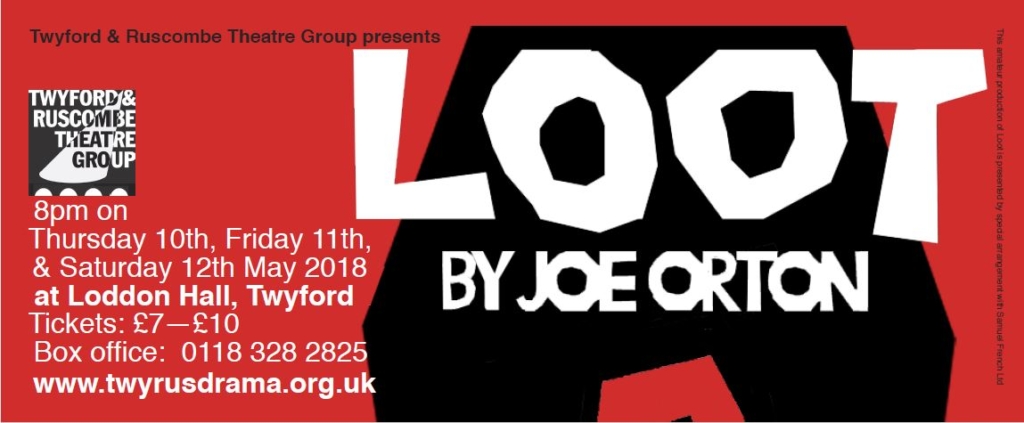 Twyford and Ruscombe Theatre Group are delighted to present their spring 2018 production: LOOT by Joe Orton – a very funny black comedy written in the 1960s. The creative team, under the direction of Frank Kaye, are having a great time exploring the parallels between the absurdity of the behaviour of the characters and that of the world in which we now live.
An Irishman and his son are burying their recently deceased wife and mother with a nurse in attendance. It seems that the nurse has designs of her own and the son has also been up to various antics with his mate who works at the undertakers. A coffin is centre stage at the beginning and there seems to be great interest in the contents of the wardrobe, especially from the man from the water board. Utter farce ensues!
The performances will be enhanced by an exciting set designed by professional artist Sally Castle and original music written by Richard Meehan, who last worked with Frank on his professional production of Faustaff in Mexico City.
Following the fiftieth anniversary of the untimely death of Joe Orton, Twyford and Ruscombe Theatre Group is taking the opportunity to revive LOOT, one of his most brilliantly constructed plays. Don't miss the chance to experience the unique genius of this tragic young playwright.
Tickets are available from the box office number or online: see details above.