View Calendar
Repeat every day until 13-10-2018
It runs in the family

Thu 11 - Sat 13 October 2018

8pm

Loddon Hall, Loddon Hall Road, Twyford RG10 9JA

Box Office 0118 328 2825

trtgboxoffice@gmail.com

www.twyrusdrama.org.uk
This autumn Twyford & Ruscombe Theatre Group are proud to present It runs in the family, a comedy by Ray Cooney.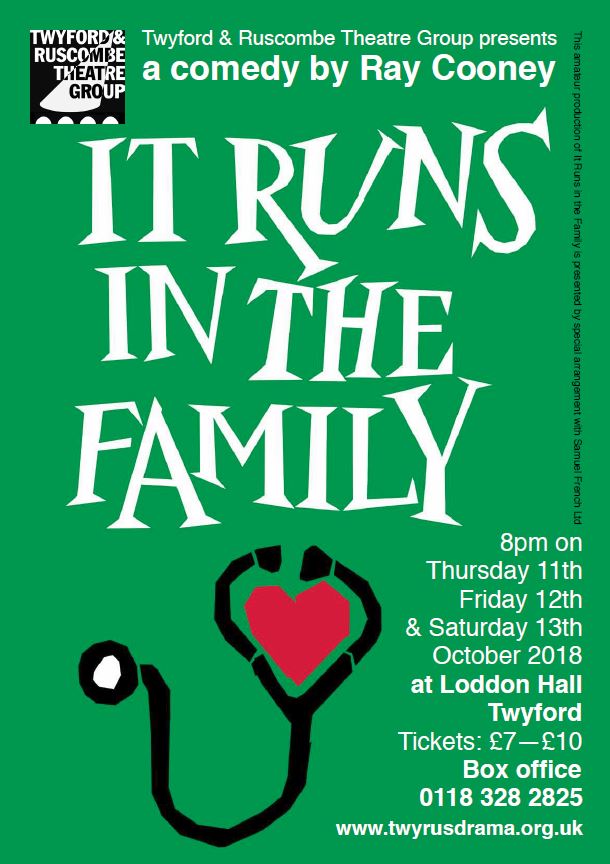 If you are a leading surgeon in London's most prestigious hospital and you are delivering the 'Lecture of the Year' to a hundred of the world's leading physicians, the last thing you want is a distraught mistress from 20 years ago turning up.
Well Dr Mortimer can cope with that, but when the erstwhile mistress says that the result of their past union was a baby boy, he is more than gobsmacked. And when the ex-mistress then tells him that the baby boy, now a strapping sixteen-year old, is waiting outside to be introduced, there is only one course of action – send for faithful friend, Dr Bonney.