View Calendar
Festival of Food and Music at South Hill Park

Fri 3 - Sun 5 June 2022

Fri 2pm - 9pm | Sat 12 noon - 8pm | Sun 12 noon - 6pm

South Hill Park, Ringmead, Bracknell RG12 7PA

Free entry

01344 484123

www.southhillpark.org.uk/events/the-festival-of-food-and-music
Celebrate the Queen's Platinum Jubilee with South Hill Park at the Festival of Food and Music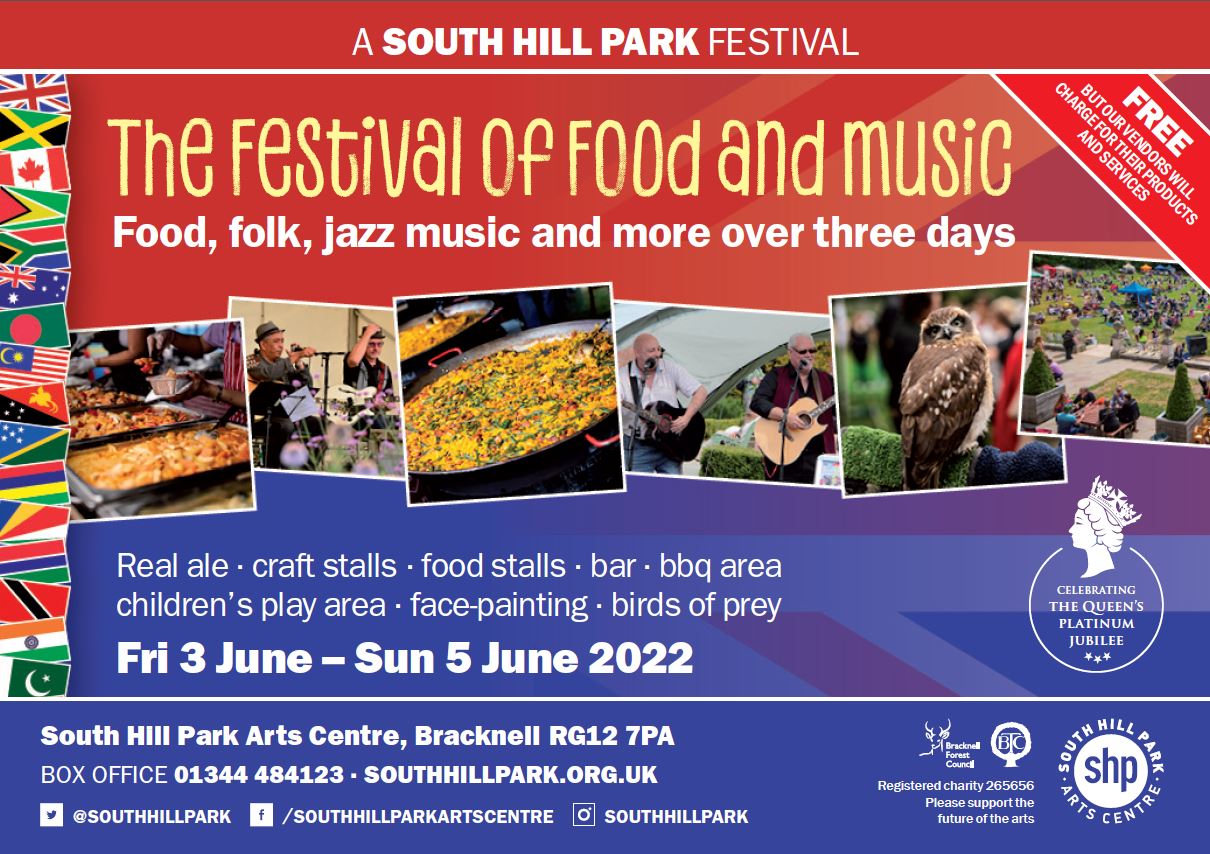 South Hill Park's popular Festival of Food and Music is back this summer for three days, running over the Queen's Platinum Jubilee weekend, with a variety of live music, fresh food and exciting family activities for all to enjoy. Wander the grounds, browse wonderful local food and craft stalls, and get involved with creative arts activities in the Italian Garden including sculpture willow weaving, canvas painting and more.
The live acts will represent every decade of the queen's 70 year reign from the 1940s to the present day, including:
Fri 3 June - Tributes to the music of Freddie Mercury from Queen, Kylie Minogue, Little Mix, Take That and Abba, with a DJ keeping people dancing between change overs.
Sat 4 June - Evolution performing covers of classic hits, the Self Preservation Society bringing songs from the 60s as well as music from acoustic duo Inversion, Tony Woods & the Jazz Giants, Funky Nature and The Lemon Sharks of London. On the In The Woods Stage you will find some of the best acoustic music around with Michael Tuffery, Tomorrow Bird, Union Blue, Veronica Drozdowski and Colin Bailey.
Sun 5 June - Rock'n'Roll band The TR5s performing music from the 50s & 60s and Country/Americana with Sandy McLelland as well as award winning singer & songwriter Jenny Colquitt and No Dog Deal. Plus music In The Woods with The Capo Thieves, Marc Woosnam, The Gillies and Meddling Fox.
Each day will finish with a singalong with the fabulous Matthew Quilliam.
South Hill Park tours
Book a free tour of South Hill Park Arts Centre and explore behind the scenes of the mansion and theatre. Each tour lasts approximately 60 - 80 mins visiting different rooms and venue spaces whilst learning about the history of the Arts Centre and some exciting upcoming performances. Optional donations are welcome and tours hold a maximum of 10 people.