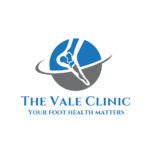 If your feet hurt, a podiatrist should be the first health care professional you contact – as you would a dentist if you had a toothache.
If you just need help with cutting your toenails because you struggle to get to your feet, then look no further… we offer a wide range of treatments for conditions in the lower limb: thick nails, fungal nail, ingrown toenails, hard skin & corn removal, cracked heels, athlete's foot, verrucae treatments, diabetic feet, arthritic feet, children's feet, plantar fasciitis, biomechanical assessments, insole provision and more…
The Vale Clinic offers a complete Podiatry service dedicated to improving your foot health. Treatments are tailored to suit all your foot care needs.
We are based within three medical practices across east Reading – Twyford, Woodley and Earley. Home visits can be arranged on request.
Your foot health matters to keeping you mobile and independent.